The Beijing News (Reporter Zhang Jianlin) On September 15th, 2023, the Beijing Cultural Forum "Integration of Literature and Tourism: Combining Literature and Plastic Tourism with Tourism" was held, which was the first national and international forum with the theme of "Integration of Literature and Tourism". At the forum, Wang Keran, the founder and director of Yanghua Drama, shared his story. He said that drama plays an important role in the integration of literature and tourism, and there are two magic weapons for the success of the drama market, among which the lofty spiritual core is the key to the long-term survival of drama.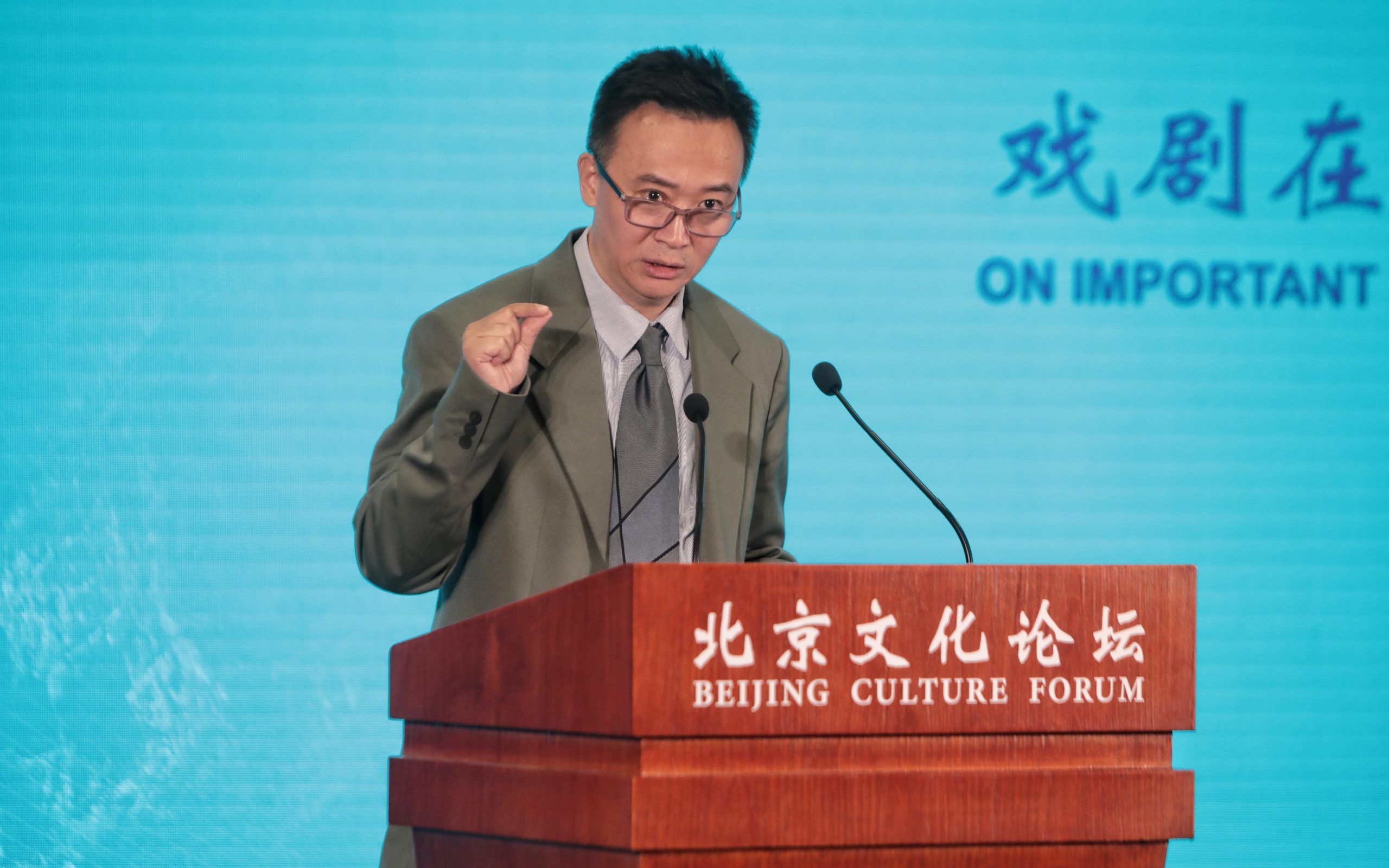 On September 15th, Wang Keran, the founder and director of Yang Hua Drama, spoke at the parallel forum of "Integration of Literature and Tourism: Using Literature to Plastic Tourism and Using Tourism to Promote Literature" of the 2023 Beijing Cultural Forum. Beijing News reporter Wang Jianing photo
In June this year, Wang Keran and his team made a cultural trip in Europe. Starting from the French Actors' Spring Drama Festival, they visited the People's Theatre in Lyon, France, watched the commercial drama performance in Paris, and finally went to Vendai Province, where they were invited to visit the "Madman's Country Drama Valley" for three days.
The local drama park has a history of 46 years in France, and there is no amusement equipment, but it can attract about 2.6 million tourists every year, and its annual operation period is only seven months. "When we went, we thought it was the same plan as all kinds of' performing arts shows' that we had seen in a dramatic way. However, on the day we arrived, everything we watched shocked me and the team." Wang Keran said.
Wang Keran and his party watched about 12 performances in three days, and each performance was performed in theaters of different specifications based on historical stories. Specification refers not only to the size, but also to different theater forms, including framed theaters of different sizes, live performance theaters, and some performances that build historical environments and present historical buildings. All performances have a huge scale, or shocking sound, light, electricity and mechanical systems.
"Those contents are all based on such a system that all performances are (around) the timeline from history to the present." Wang Keran said that they designed the content with themes such as the spirit of defending the country and the lofty sacrifice. And every play, performance and core expressed by these themes are permeated with the most important and core emotions of human beings since the formation of civilization.
The core performance of "Madman Country Drama Valley" is "Big Night Show". The "Big Night Show" has a daily audience of 15,000, and there are two performances every weekend from June to September every year. Because of the great temperature difference between day and night, only these months in summer are suitable for outdoor performances.
"I was very surprised to find that the performance was full, and its audience was composed of audiences in France and surrounding French-speaking areas, and it was not promoted to the whole world. However, it has relied on its own audience for 46 years, and every year, every month and every game has achieved a perfect full number. " Wang Keran said.
In addition, they found that the viewing ratio of adults and children was basically 1.5:1. Judging from the age of the children, there are six or seven years old and seventeen or eighteen years old. The "Big Night Show" shows the growth and struggle of this nation from the Middle Ages to the modern times, and presents the great spirit needed to protect the country and defend the country through various dramatic means.
In Wang Keran's view, the souls of these shows are all real dramas and profound dramas, which can attract countless people to participate in a patriotic drama education action in 46 years.
"There are two magic weapons for the success of the drama market, one is entertainment, and the other is sublimity." Wang Keran believes that the core of the long-term survival of drama is sublimity, because entertainment can be constantly replaced by various technical means, and sublimity can always obtain the core height with tenacious vitality through drama.
Wang Keran said that literary travel has a huge space, and the action of the great and lofty drama soul can be an important support and combination in the integration of literary travel. Beijing can have business, but what we are more proud of in Beijing is that it can attach great soul to the action of commercial value.